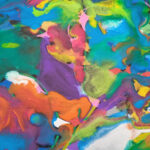 PLASTIC ARTS COURSE "REVEAL YOUR CREATIVITY"
Awaken your creative force through sensory stimulation. Discover, experiment with new artistic techniques. Leave with your UNIQUE artistic production !
Mixed techniques in painting, pastel, drawing, modelling, collage, writing, etc.
This course is for everyone, children (from 8 years old), teenagers and adults. All levels.
From 4 participants minimum to 8 maximum.
ALL NECESSARY MATERIALS INCLUED.
One-day course from 9 a.m. to 4 p.m. We share lunch together, but it is not included in the price.
SINGLE PRICE : 75 € payable in full on registration.
Scheduled dates: Monday 04/07/2022 – Monday 18/07/2022 – Monday 29/08/2022.
Contact me ! See you soon !
Dare to do and dare to have fun doing!